A strong earthquake attack on China Gansu and kill at least 47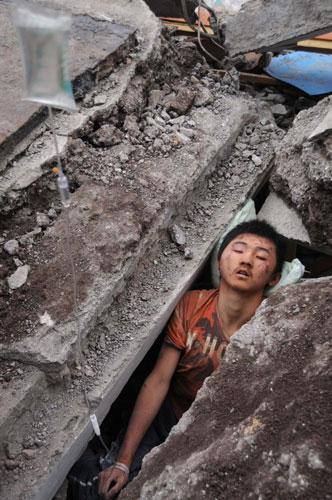 In China Gansu north and west region a strong earthquake attack  and at last news about forty seven people died and more people fall into trap and about three hundred people injured in this earthquake. From a geological survey in United States say magnitude of the earthquake is 5.9 . Firstly today morning 7:45AM attack on Gansu region. Again 9:12 AM in the same region Gansu attacked by earthquake. Magnitude of scale is 5.6.
Before five years ago in 2008 China attack by earthquake and about 90,000 thousand people was died. And number of million people loss their home. All people comes out in road from working place, hotel, factory, bank, office and others when they feel vibration. Earthquake department go Gansu and visit all damage area and trying hard to save all life and property.
Source of Dingxi government about two hundred ninety six people was injured today earthquake which is writes on a blog in China. Some people say it is more serious and fear to all for it's more vibration. A private news and some people who are affected in this earthquake at about five thousand six hundred people loss their home which is more destroy. Dingxi government also write their blog about losing amount of financial minimum  one hundred ninety eight million yuan which is blow a bad impact on economic.
Earthquake is not new in China it is occurred again and again in China such as In 2008 earth quake occurred and died about  90 thousand people and enormity in meter scale is 7.9 which is occurred in Sichun region in China. In 2012 earthquake attack in China Yunnan and Guizhou region where meter scale enormity is 5.6 and minimum eighty people died. In 2010 Earthquake attack on China Qinghai where meter scale enormity is 6.9 and about  one thousand one hundred people died. In 2011  earthquake attack in Yunnan and died minimum 22 people and meter scale enormity is 5.4 . In 2013 on April earthquake attack in Sichuan region and meter scale enormity is 6.6.
Source: BBC News
Image source:   img.ifeng